Friday and Saturday report from the Beach
2015-05-12 16:17:19
Shell Beach, Louisiana - Saltwater Fishing Report
Breton Sound
Friday and Saturday report from the Beach. I helped Capt. Dane out with a multi boat group both days. Friday I had four in my boat. We started out fishing a shoreline near the edge of the Sound with Campo's live shrimp 3' under a cork. The bite was not fast, but the Trout were very nice. We stuck with it till the bite really slowed down. We then made a move to a rig in Eloi. Here we changed tactics to live shrimp on Carolina rigs hopped along the bottom, and it paid off in a good Trout bite. The guys were hauling them in at a steady pace and before long number 125 hit the ice.
Saturday I only had three in my boat. The wind was blowing a good bit more than the day before. We headed toward the rig we finished up at Friday, but got a bad report on it from another Capt. that tried it first. He said it was crowded, that water was dirty, and no bites. We moved to another rig and found some Trout, but they were on the small side. We hit a couple other rigs and caught a few more, but the wind was tough. By now we had 40 or so in the box. With the SE wind blowing we moved closer to the house and fished along the shore of Lake Borgne. As soon as we got to this stop the Trout started to fly into the boat, and nicer sized than the ones we caught earlier. Like a light switch the tide stopped and so did our bite, but by then we put 85 on ice along with 3 Reds and few Heads. The guys had two great days of fishing fun and will be back for more.
All fish in the Suzuki powered Blazer Bay 2400 were caught with Campo's live shrimp on Capt. Rory's United Charters custom rods provided by CUI Products with Shimano reels, spooled with Power Pro line. All fish removed and boxed with the one and only Just Grab it Glove.
THE TROUT BITE IS ON!!! They have shown up and Campo's has live shrimp that the Trout are eating up. The books are filling up fast, don't miss out on the fun. Call now to book your trip of a lifetime. Overnight accommodations on the bayou are available.
Capt. Rory Rorison
United Charters
Shell Beach, LA
504-439-1680
rory@unitedcharters.com
www.unitedcharters.com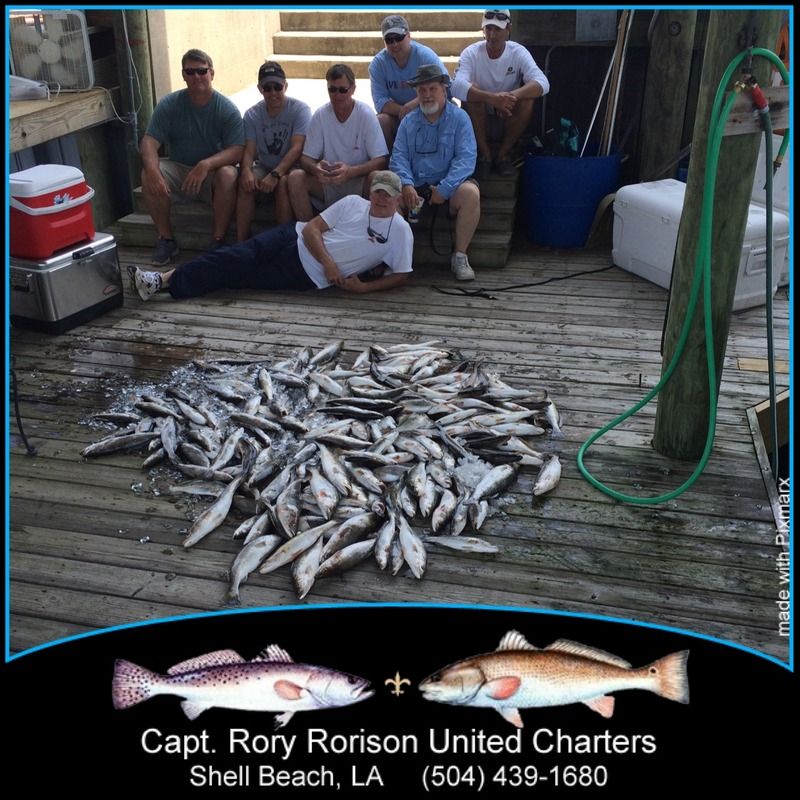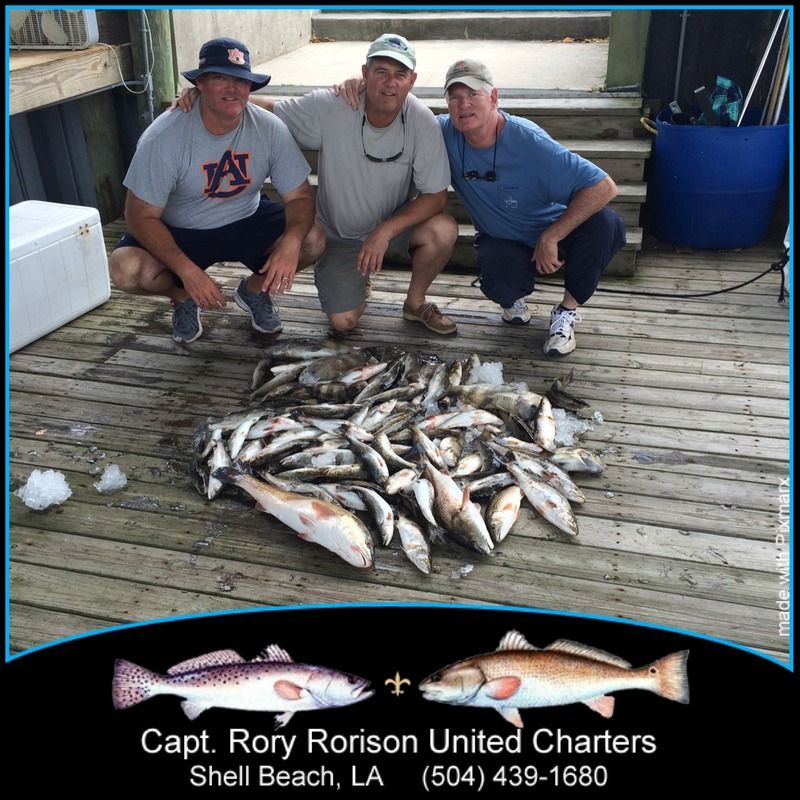 Fish Species: Speckled Trout and Redfish
Bait Used: Campo's live shrimp
Tackle Used: CUI Products rods, Shimano reels, and Power Pro line
Method Used: Live shrimp 3' under a cork
Water Depth:
Water Temperature:
Wind Direction:
Wind Speed:
About The Author: Captain Rory Rorison
Company: United Charters
Area Reporting: Shell Beach, Louisiana
Bio: United Charters was founded by Rory Rorison in 2001 and is located in Shell Beach, LA. Captain Rory is a life long Louisiana resident and has grown up fishing in this Sportsman's Paradise. Captain Rory's love of fishing and the outdoors is only matched by his love of sharing our bounty and his experience with others. United Charters provides some of the finest coastal marsh fishing to be found in the unspoiled waters of Shell Beach, Louisiana. We are USCG licensed and insured. Through our commitment, experience, and expertise United Charters has established a business relationship with our customers that will last a lifetime!
504-439-1680
Click Here
For Past Fishing Reports by Captain Rory Rorison